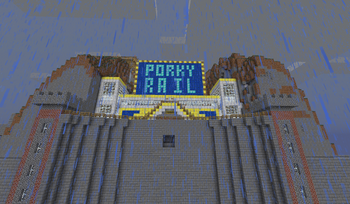 Welcome to the Tasteyserv WikiEdit
Tasteyserv is a Creative Minecraft server originally hosted by primis, But now under the guidance of TasteyFlame and Murrkitteh. This server is expansive, with a map exceeding 1.7 GBs, and reaching a width of more than 25,000 blocks. Hosted since September of 2011, this server has more than 4 year's worth of random structures, cities, and secrets.
Places to go, Things to do!Edit
Visit some pages we actually put time into!
Things to Do:Edit
There is a To Do Page for pages that still need to be written about.
ActivitiesEdit
Listed are a number of different database containing information on Dungeons, Parkour Areas, and Pig Race Courses
Latest activityEdit
Community content is available under
CC-BY-SA
unless otherwise noted.