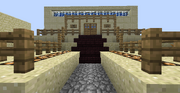 THIS CITY WAS UNFORTUNATELY LOST.
THERE IS NOTHING HERE NOW AND WE ARE DEEPLY SORRY
Lélialih City is a small half-abandoned desert city on the outskirts of the Drootenshire Harbor area. It is home to numerous sideshow attractions, foreign traders, bazaars, and other exotic curiosities. Birthplace of the poet arnthorr8 and home to the Pyramid Run solo dungeon [Dungeon ID: 002].
Businesses
Edit
Lélialih is home to several small, family-owned businesses including: Yshikoh Paper Mill, Kkhasbah's Café, Mho Ghru Smithy, Zazupf and Sons' Tannery, Garooth Spa, and the Lélialih Academy of the Fine Arts, .
The Azigh Pyramid Run is a solo dungeon in Lélialih run by the mysterious poet and business tycoon Mr. A (arnthorr8).
Lélialih is the largest of the Holy Cities of Ikara, a series of cult-based sects of a branch of the ancient religion of the Red Candle. Holy altars can be seen in the city, bearing the holy seal "samikaréh". A group of religious peoples on a pilgrimage traveled to the desert and built this community there in the name of their god. Legend has it that when certain sacred magic words are chanted, one can instantly vanish and appear in Lélialih.
The language spoken in Lélialih is a Desert dialect of the Tongue of the Red Candle, a popular second language to many religious followers. This dialect simplifies all vowel sounds into six main phonemes: a, e, é, i, o, u; the consonants are also simplified into only 20 consonants recognized as phonemes.
The Pyramid of Azigh had, since its creation to hold the ruler of Lélialih in ancient times, been transformed into a tourist attraction as an adventurous, single-person dungeon.